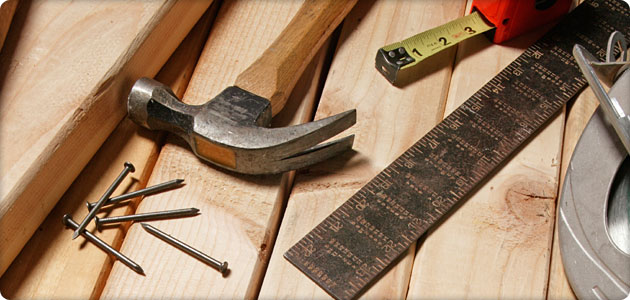 One of the reasons we bought our new house is because it had an already-existing shop space out in our very large back yard.  It's already wired for 220, it's already insulated and it's the perfect size, with room to expand if I ever decide to.  So when we moved, I stuffed all of my equipment into the shop and figured I'd outfit it as time went on…
That was 6 months ago and I still haven't had a chance to do more than put things in their general place.  Most of the tools are basically usable, but nothing is actually set up like it needs to be.  The worst of my problems, I'm realizing, is figuring out what to do with my dust collection and compressor.
In my old shop, I built a little outside room for both of them and insulated it so that they were virtually silent. Everything was plumbed in the rafters so I had dust collection to every tool and had pull-down reels for air in multiple locations throughout the shop.  I absolutely want to do that again and I have the perfect place for it, and the perfect access point into the shop.  The previous owners had a big exhaust fan high on one wall.  The fan is gone and the hole is just covered with plywood, but it would be the perfect entry for all of the hoses.  Of course, knowing what you want to do is entirely different from getting it done, I have to put in concrete anchors for 4×4 posts so I can build a really beefy structure to hold both the tools and the sound insulation I'm adding.  In my old shop, I just threw some of that green corrugated plastic roofing on top, but this time I think I'll build a proper roof so I can sound proof that as well.
Right now, I'm using a portable 30 gallon compressor instead of my big 80 gallon unit that's sitting in the garage.  I have a roll-around mini dust collector that I can move from tool to tool, not my big 2hp cyclone unit that's also stored in the garage.  It's workable but not particularly convenient.  Unfortunately, it's getting cold outside these days and I don't want to work in it, any more than I did during the summer when it was really hold.  So I guess that all of this will have to wait until the spring, when hopefully I can split the difference on temperature.  Plus, figuring out how to run all of the 4″ piping and spending all that time up on ladders isn't something I'm really looking forward to.
But I know I have to get it all done because I can't do much out in the shop until I get it all sorted out.  All of my tools need new storage built and that means I have to decide exactly what I want to do.  Right now, there are cases laid out all over the floor and my hand tools are spread across my workbench.  Moving sucks, did I ever say that?  Even if I get a brand new and potentially really cool shop out of it.