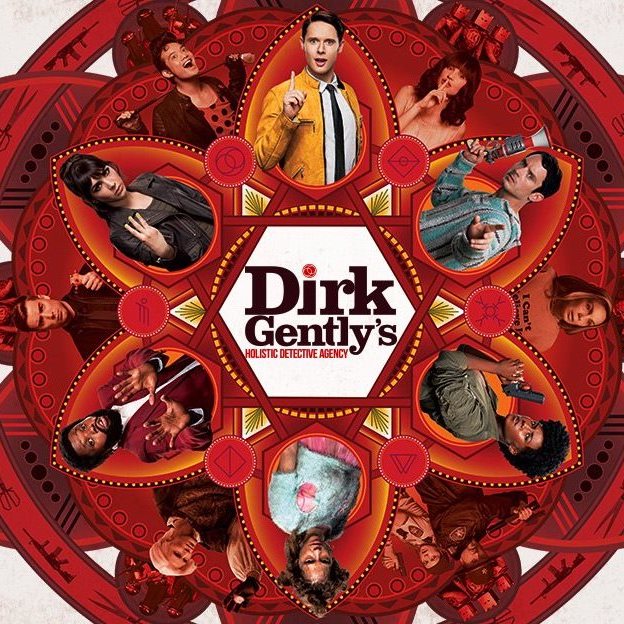 You know, being a big Douglas Adams fan, I keep feeling like I'm supposed to like this show but I don't.  I just don't.  I didn't last year and I liked it even less this year.  This is not Adams' Dirk Gently.  This is just a mess.  So let's look at why this show fails so spectacularly.
After ending up in the small town of Bergsberg, Farrah and Todd search for Dirk, who has been taken by Blackwing. But all is not as it seems in Bergsberg, the small town is home to the portal to a bizarre alternate reality and the wall between the two universes is about to come tumbling down…
Weird things always happen in Dirk's life, but when Douglas Adams did it, it felt clever.  Here, it feels stupid.  It feels like they're just throwing things at the screen to see what sticks.  It made a weird kind of sense in the books, here it makes no sense at all.  And I have no idea why so many people seem to like it because I can't stand it and neither can my wife and she's an even bigger Douglas Adams fan than I am. It just doesn't feel like Dirk Gently at all.
If this thing came back for a third season, I don't think we'd bother again, which is a good thing because BBC America cancelled this dog. There are elements that are decent but far too much that's a disaster.  It isn't the acting, it isn't the actors, it's the writing that makes this show suck.  It feels like Max Landis took the ideas of Douglas Adams and tried to make them his own and it just didn't work.  I guess it's sort of like what they did to Hitchhiker's Guide to the Galaxy when they put it on the big screen. Clearly, they had no idea what they were doing and it showed.
I don't know that you can do a good Dirk Gently on TV.  A lot of it relies on the mind of the reader to make connections that aren't really there.  This wasn't a good attempt.  I honestly hope they don't make another.  The books work great on their own, we don't need to see this in other media.  As much as I loved Douglas Adams, I'm perfectly satisfied to leave it there and not want any more. It's just going to be done wrong.
Rating: ★★★★★