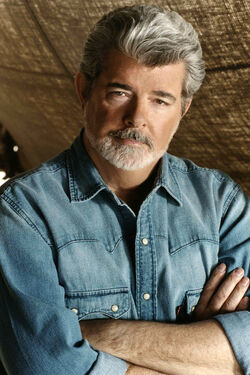 Now keep in mind that this is being written before Episode 7 comes out, but in recent days, George Lucas has been talking a lot about why he walked away from Star Wars, because his ideas for the future of Star Wars and Disney's ideas for the future of Star Wars, just didn't coincide.  Well, after what you did to the prequels, I certainly hope not!
So let's take a look at the legacy of George Lucas and why I think he's largely peed in his own pool.

I really don't like the idea of a "legacy" in the first place.  The idea that a body of work can somehow become a part of history.  Some parts of his body of work are great. Some are not.  Sure, without George, Star Wars wouldn't exist, but also without George, a lot of the bad things that have happened to the Star Wars property wouldn't exist and I'd be entirely fine with that.  If the prequels never existed, I'd be entirely fine with that.  Unfortunately, like J.K. Rowling, people were afraid to tell Lucas that his ideas sucked, he surrounded himself with yes-men who just told him to do whatever he wanted to do and that gave us crap like Jar Jar.  But this isn't about what he did once, it's about what did he do for us today?  Honestly, what has George Lucas done in the Star Wars universe in the past 30 years that is worth talking about?  Not a damn thing.
Lucas says two things that are really hitting people wrong, that Star Wars isn't about spaceships and that it isn't about gobbledygook.  Sure pal, tell us about midichlorians again, won't you?  What did you do to screw up the original trilogy because you thought you could make it "better" with the special editions?  News flash for  you pal, you didn't.
So now Star Wars has been passed off to another company and Lucas is crying all the way to the bank.  He can't keep sticking his nose into Disney's business though and while he's welcome to his opinions, his opinions now mean exactly squat.  I don't really care what he started, I care what he's done with it since then and since 1983, it isn't anything to be proud of.  I don't believe in hero worship and George Lucas wouldn't remotely qualify even if I did.  He's a guy who once had a good idea and produced a good product, but since then, he largely squandered any good will I might have had toward him. Now shut the hell up, go live in your mansion with your billions and let the franchise move forward, for good or ill, without you.