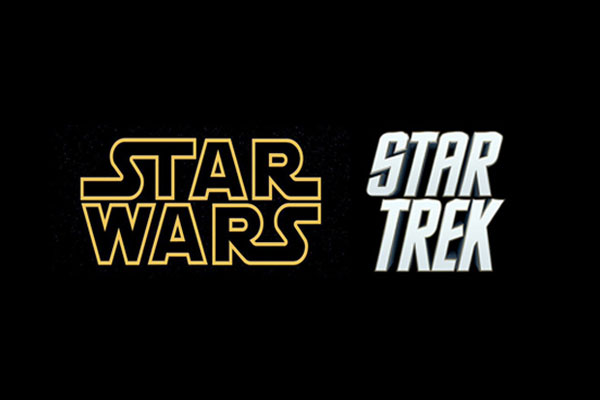 I don't care about the extended universes for either Star Wars or Star Trek.  It was recently brought to mind as I was listening to a "let's play" podcast set in the Star Wars universe and they spend a considerable amount of time debating how things work in the extended universe and frankly, I couldn't care less.
I know I've talked about this to a certain degree in the past, where I don't get excited for new Star Wars movies or new Star Trek TV series.  I like what I like. Beyond what I like, I don't care.  As far as I'm concerned, Star Wars stopped in 1983 with the release of Return of the Jedi.  Star Trek begins and stops with TOS and the movies featuring the original cast.  I don't care for anything that's come since and don't want to see anything new.  There were no Star Wars prequels, that's just really awful fanfic and all of the Trek series?  Those aren't real.  I don't care what happened on Star Wars Rebels.  It doesn't matter to me what's in some esoteric expanded universe book.  The world begins and ends with the parts that I like and I really have no interest whatsoever in exploring any further.
I used to, but I've been burned so many times and disappointed so many times that I just don't bother anymore.  Sure, any Star Wars book that Timothy Zahn writes, I'll read, not because it's Star Wars but because it's Tim Zahn.  I don't consider those canon though because canon is only contained in those first three movies.  I already said, back when The Force Awakens was announced, that no matter what it was, it wouldn't be Star Wars because they just don't make movies like that anymore, and I was right.  And the JJ Abrams Star Trek movies aren't Star Trek.  They might be decent movies in their own right but I don't enjoy them the way I do TOS.  I don't enjoy newer Star Wars projects the way I do the original trilogy.  Those stories told everything I care about in that universe, I really have no interest in exploring anything outside of that media, hence… no expanded universe.
And people just don't get that.  There are plenty of fanboys that are just fascinated with the possibilities that these universes provide.  I get that, I just don't share that fascination.  I like what I like, I enjoy what I enjoy and I'm satisfied with what I have.  I don't need, nor want anything more. It doesn't matter if it's Star Wars or Star Trek or Indiana Jones for that matter, those stories are done as far as I'm concerned, I have what I need, let's move on to something else.