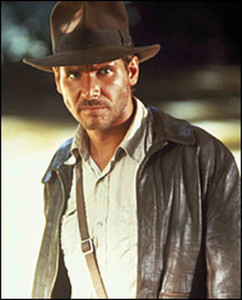 Way back at my very first look at non-sport cards, I put up the original series of Raiders of the Lost Ark.  I had intended to go back and present other Indy card sets from Temple of Doom and Last Crusade but, of course, I never got around to it.
Therefore I wanted to put up a card set that explores all of the Indiana Jones mythos.
Indiana Jones Heritage was a 90-card set, put out by Topps, just prior to the release of Indiana Jones and the Crystal Skull.  It was a new set with new images from the original trilogy that had never been seen on non-sport cards. It was put out in 24-pack boxes with 8 cards per pack.  Beyond the regular 90-card set, depicted here, it had quite a number of chase cards including die-cut magnets (1:8 packs), sequentially-numbered gold foil parallel cards, autograph cards and hand-drawn sketch cards.
Interestingly enough, Topps really went all out making this set nostalgic.  Not only were the cards printed on non-plasticized cardboard, each and every pack came with a stick of that horrible pink gum.  Unfortunately, there were quite a few complaints that a single box would not only provide a full base set, but absolutely no special cards whatsoever.  Bad box packs were very common.  And of course, most of the promos got absurdly overpriced on eBay.  At the time, Kate Capshaw's autograph card had a starting bid of $399.99 and Harrison Ford's autograph was going for over $10,000. It's absurd.  That's really why I don't spend any time chasing down these cards, I get what I get and that's all I worry about.
Keep in mind that, as always, you can look at the cards close up by clicking on individual images.