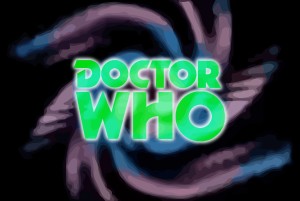 I like classic Doctor Who, a lot more than most of the newer series.  Tom Baker is my favorite Doctor and nothing since, at least in my opinion, has come close.
Back in 1994, Cornerstone Communications put out three card series based on classic Doctor Who.  This is my look at the first series of 110 cards.
Much of the series covers individual episodes throughout the series, seemingly at random.  There are 4 Hartnell, 2 Troughton, 10 Pertwee, 17 Tom Baker (including Shada and K9 and Company), 8 Davison, 7 Colin Baker and 7 McCoy adventures presented.  Thereafter, each of the seven Doctors are featured in a 15-card set which detail their major plots and regenerations, then there are villain cards, companion cards and legend cards and the set includes 7 random prism cards.  The photos are mostly well done, although the picture of the TARDIS on card 110 was shot at the BBC prop warehouse, not on set.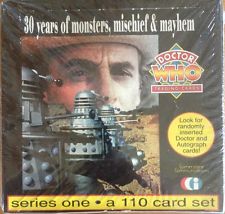 There are a considerable number of factual errors in the set though.  For instance, the serial codes are wrong on several cards; for example Mindwarp is given as '5Q', and Castrovalva as '7N'.  The episode K9 and Company was not written by David Agnew, and nor was it set on Gallifrey, this comes from a printing error where the card back was mistakenly reprinted from the The Invasion of Time episode.  According to card #39 The Visitation was written by Adric, Nyssa and Tegan, which clearly is not so, those are the Doctor's companions, not the episode writers.
It's not a bad set of cards, especially for fans of the classic series and if you can overlook some of the blatant errors, there are a lot of photos that have not been featured before.  Given more than a few grains of salt, I'd give this set a thumb's up for Doctor Who fans.
Remember, click on the individual images to see the cards close up!  See you next time with a new card series!