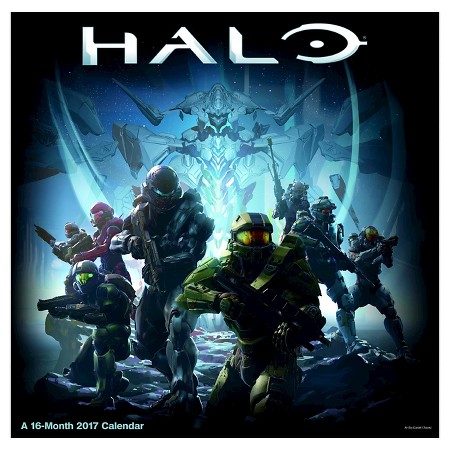 Yup, time to put up the new calendar! Honestly, that's all New Years means anymore is switching out the old calendar for the new one so I can keep putting up blog posts.
This year, I went for Halo, mostly because it was the only thing that the calendar store at the mall I stopped at had that I cared about.
Last year I had chihuahuas because I like chihuahuas.  I had two when I got it and I have one now.  The year before that, I don't remember.  These things aren't all that important to me.  Utilitarianism for the win.
In fact, the only reason I have one hanging on the wall by my desk is so I can keep track of what blog posts I have scheduled.  Red for Bitchspot, blue for the Corner.  That way I don't schedule things on the same  day or miss a day that I was supposed to have  something up.  You can tell at a glance.  Easy peasy, lemon squeezy.
I've had a pile of blog posts ready to schedule, but without a calendar, I've been content to let them just lie around.  I realized that it was getting late in the  season and since my wife and I were going to the mall after Christmas anyhow, we figured what the heck, pick up a few at a discount.  All of the good dog calendars were gone and they had nothing from any other property I cared about, so Halo it was!  I might have gone for Fallout had they had it, but nope, Master Chief gets the nod.  So it goes up on the wall, I get everything scheduled out for most of January, and I'm a happy boy.  It's all I use calendars for these days, anything else is digital.
So what did you get this year?  Did you even get a calendar?  Let me know in the comments.