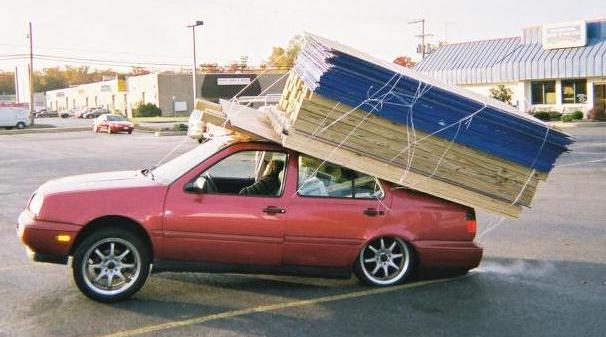 This is something that keeps coming up, now that I'm doing a lot of renovation on the new house, but I keep finding that I need to move big items and unfortunately, I really don't have a good way of doing it.
But it isn't just moving around doors and fences, but it's really hard to go get wood for woodworking.  So how do people manage it if you don't have a truck?See, my brother-in-law and I were thinking about buying a truck that we could share, that would just sit there until we needed it and share all of the costs.  However, that's not really cost effective, neither of us has a truck normally and the number of times that I'd have to go get something big is really pretty minimal.  Yes, I could just rent one when I need it, but that's inefficient as well, I can't just go get what I want without planning for it.
Add to that the fact that since my closest hardwood dealer is now very far away, more than 80 miles each way, the only way to make it worthwhile is to buy a significant amount of wood on each trip.  How do I get that much wood home, especially long pieces, without having a truck available?  And even if I did rent, the cost for that rental is going to be high, between gas and mileage and rental costs, it's going to cost me more than $150 per trip, not counting the hundreds that I'll spend on wood.
So that's my question, how do people who don't have trucks, yet have to get things on a regular basis, do so?  I know that, at least for the house, those trips will get fewer and fewer as I don't need to replace large things, but for the woodworking?  This is an ongoing cost that I'll be accruing for as long as I work with wood.  So should I get a truck?  I certainly have plenty of space to store one. Or should I rely on U-Haul and other local rental companies and just suck up the high costs when I have to get a load of supplies?  Because while I don't enjoy the ongoing costs of owning an extra vehicle, I certainly regret not having one on those occasions where one would come in handy.  Let me know your thoughts.