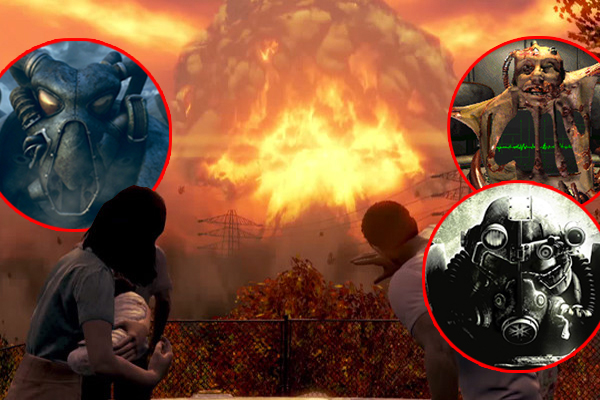 Not long ago, I complained about the factions in Fallout 4 and promised that I'd follow up with a post on the storyline, which pretty much everyone agrees is pretty lackluster.  So here we go, my take on what went wrong with the story in Fallout 4.
In Fallout 3 and Fallout: New Vegas, you actually had a story that mattered.  The decisions you made actually impacted how the later story played out.  In Fallout 3, you could nuke Megaton and that strongly affected what happened later.  Or you could not nuke it and that made the story turn out differently.  In New Vegas, you could decide how to handle Mr. House.  You could be good or you could be evil in these games and how you behaved and the choices you made actually mattered.
Not so much in Fallout 4 and that's a shame.  It's really hard to be a bastard in this game.  You are going to take the high road, at least to a certain degree, whether you like it or not.  You are going to join the Minutemen or you can't really play the game.  You are going to chase Shaun.  You are going to join the Brotherhood of Steel.  These aren't choices, these are virtual requirements.  There just aren't any choices with real repercussions.
And speaking of Shaun, am I the only one who was terribly disappointed by the entire thing?  I think the idea was fine, your infant son is kidnapped before your eyes and your wife murdered and you have to hunt him down.  But the whole thing takes so bloody long, by the time I found him again, I had this whole other life and he just wasn't important.  And how that whole story played out was, let's be honest, stupid.  He wasn't someone who needed rescuing, he was just fine and would have been perfectly happy without me.  It wasn't even a twist because they didn't let enough time pass between getting to the Institute and you finding out the truth.  I started out really excited to find Shaun and ended up just not caring at all.
But to be honest, I don't care as much about the story as I do about the  game play and I thought that Fallout 4's game play was excellent.  I genuinely had fun playing the game and I know that I'll go back and restart the game at some point in the future and play through again and probably again after that.  I've done it with Fallout 3, I did it with New Vegas, I absolutely will with Fallout 4. But the last time I played through Fallout 3, I still enjoyed the story.  I can't say I'll do that in Fallout 4.  I'll play to shoot things.  I'll play to settlement build.  That's about all I'm taking away from the game and that's a shame.  With everything amazing that they added to the franchise here, it seems like they completely forgot to include a worthwhile story.  It started out great.  We got to see the world before the war.  And then… it all fell apart.  This is an unfortunate reality with this game.  A lot of missed opportunities.  Their DLC was lackluster at best.  The story was bad.  The graphics were a bit subpar for a next gen game. I had fun but I hope the next one is a lot better.