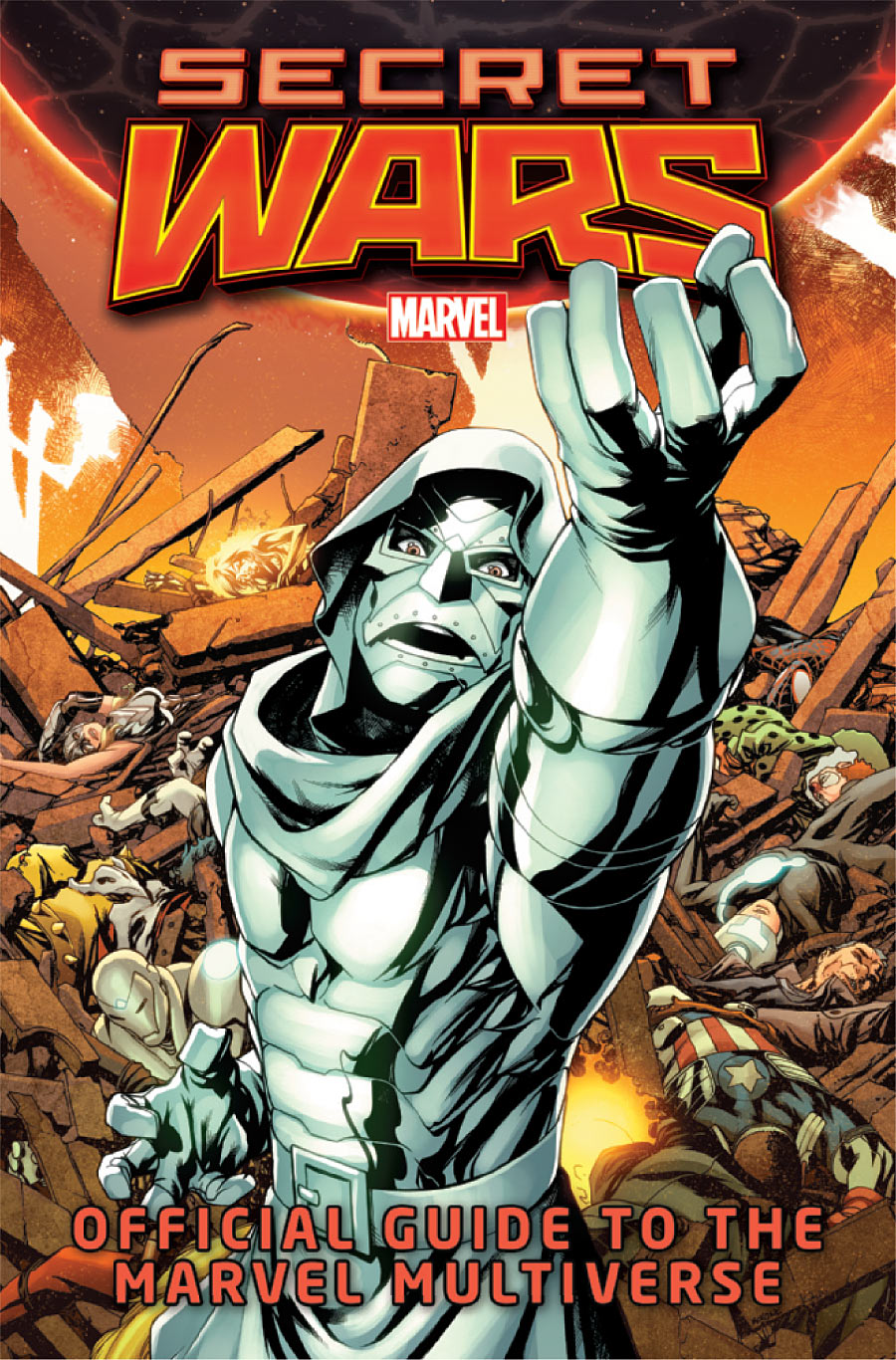 It was all supposed to work out.  With Secret Wars coming to an end, I was going to have a week-long event, just like I do over on the other blog, where I'd get through almost all of the Secret Wars titles and crossovers in one fell swoop. It all hinged on Secret Wars ending on time… which it didn't.  Originally, I was going to do this earlier in the month.  I realized it wouldn't work.  I moved it to the end of the month.  It still won't work.  Therefore, I am doing reviews of all of the crossovers this week and I'll get to Secret Wars sometime early next month, hopefully.  It happens, I guess.
So today, I'm going to look at what honestly doesn't even warrant a review, it's the Official Guide to the Marvel Multiverse, a one-issue look at the changes that have happened in light of Secret Wars.  What a great way to start off what was supposed to be an epic week, right?  So let's get started.
Ultimately, this isn't a story, it's a guidebook, just as the title says. In this issue, Age of Ultron, part of the new Battleworld is detailed, giving a short synopsis of the original story, the major characters and the important story elements that you need to keep in mind for Secret Wars.  Everything from Age of Ultron, which was a crappy Marvel event, is included and I'm assuming that they're going to release new issues somewhere down the line, although so far, I haven't seen any official announcements.
To be perfectly honest though, there really isn't much of worth here. For most people who have been reading Marvel for any amount of time, these stories are already well known, if not well loved.  I read Age of Ultron.  I reviewed Age of Ultron.  I thought it sucked.  I complained that they were taking all of these crappy storylines from recent events and forcing them into Secret Wars.  To be honest, I've heard plenty of grumbling from other long-time fans as well.
But where I think it really fails is that it doesn't stand up to what I consider the benchmark for these kinds of books, the original Official Handbook of the Marvel Universe, published between 1982 and 2007.  That was a phenomenal resource, done very well, that detailed all of the major characters that Marvel was using at the time.  If you ever wanted to know the history of any character, you had an easy reference source to look it up and it was, in general, in alphabetical order for ease of reference.  This one isn't.  What made the original useful is there were decades of comic history to explore.  With the advent of the new Marvel Universe, there is no useful history.  It's all new.  If you read Secret Wars, you know all there is to know about the Marvel Universe because nothing that happened before still exists.  So what's the point of this?  I just don't get it, except as a money-grab, which Marvel has unfortunately been extremely guilty of lately.
So can I recommend buying this?  Not really.  I mean, if you're really curious about the changes to some of the characters, sure.  Go for it.  I'm not.  I miss the old characters.  I hate the idea of a new Marvel Universe, just like most people hated the idea of the New 52 over at DC.  I'm always going to have warm memories of those comics.  Whether the new universe will grow on me or not remains to be seen.  This is something they should have done in a decade, not 15 minutes after they made the changes.  Come back in a couple of years and see if these new ideas have survived the test of time and we'll see.
Rating: ★★★★★