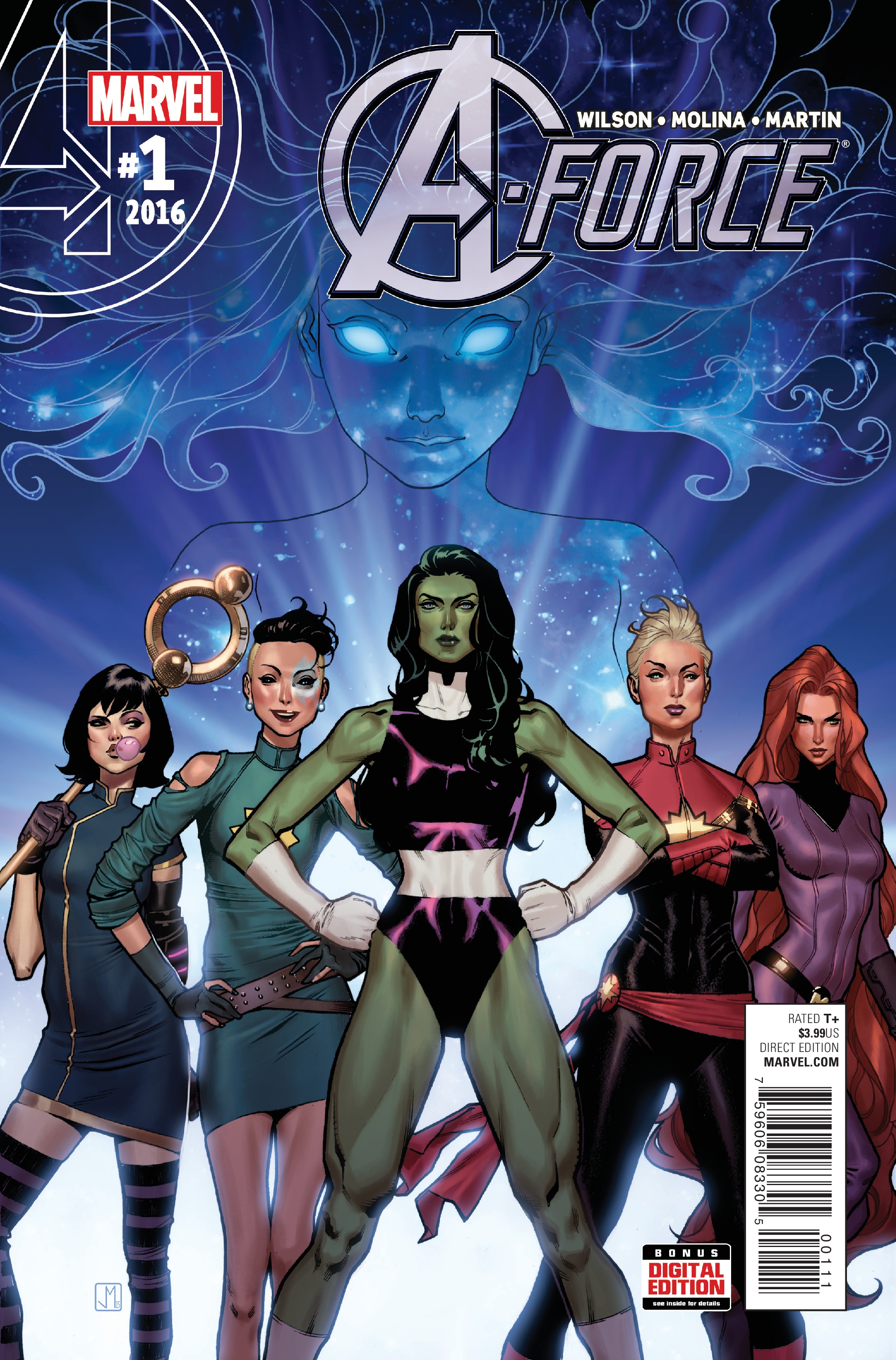 Last year, Marvel introduced a short A-Force series tie in with Secret Wars, which I reviewed here.  I noted that they were going to turn this into a regular series in the regular new Marvel continuity and now, of course, they have.  So it's time for me to take on the first story arc of this all-female superhero story and see if it's actually going to be a decent ongoing, or if it's just going to be a flash in the pan.
So away we go.
We return in a bit of a deja vu moment to Singularity, the character we met in the original story, but she remembers all of her friends but they don't remember her.  We're also introduced to Singularity's counterpart, the mysterious and extremely powerful Antimatter who wants to destroy Singularity because it recognizes that she is the only force in the universe that can destroy her.  But A-Force isn't going to let that happen, are they?
Now one thing I noted about the original "mini" is that it didn't feel rushed or forced, but that it did feel a little bit like a "oh look, female superheroes" tale and I find that totally unnecessary.  Find good characters, tell good stories and it shouldn't matter to anyone whether those characters are male or female, black or white, gay or straight or anything else.  The characters and the stories matter, not the politics.
And unlike the original "mini", this just doesn't flow very well.  Some of it has to do with the way Singularity narrates the story.  It feels disjointed in the way she speaks, throughout the story her style of speech changes dramatically, even scene to scene.  The rest of the characters are great, they feel very much in character, but when Singularity and Antimatter are on the page, which let's be honest is pretty much all the time, something just isn't working.  It isn't the character because that isn't how the "mini" worked, there's just an issue here that needs to be resolved immediately.
Art-wise, it's fantastic, Jorge Molina and Laura Martin nail it, especially with Singularity and Antimatter.  Both are such stylized characters and they manage to keep both interesting looking and original in every single panel, so a bit round of kudos there.
Maybe I'm trying to go easier on this comic than I should because I really did see the potential in the original "mini" and I was thinking that once they got back to the mainstream Marvel Universe, they'd knock it out of the park, but looking at this title on its own, I have to say that they just didn't.  The more I think about it, the less worthwhile having Singularity in the story at all really impresses me and since the conflict between Singularity and Antimatter really isn't well defined or explained, I couldn't get particularly invested in it anyhow. I'm going to give the title another arc to turn things around, but it really has to do much better than this starting arc did or, I'm sorry to say, this title is destined for the chopping block.
Rating: ★★★★★