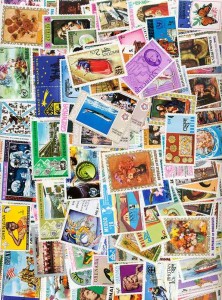 I talked in the past about how to get into stamp collecting and what equipment you're going to need, but once you do all of that, once you've defined your collecting interests and started to collect, what then?  Where do you go to look for stamps?
Well, there is no right answer, a lot of it depends on what you collect, but I'll give you some input from my end as a seasoned collector, as well as what I've done in the past.
First, you really need to consider where you are in your collection.  Flip through your album and see how many empty spaces you have.  Just starting out, you will invariably have tons of empty pages and many of the most recent stamps will be quite reasonable in price.  One thing that you can make use of early on is an approval service.  There are many to choose from that may fit your  collecting interests.  They will mail you a selection of stamps within your collecting interests, usually once a month, and you can decide which of the stamps they send you that you'd like to buy.  Send the rest back, along with the payment for the ones you keep and they'll send out more.  Now you need to be careful with this because many approval services can be quite pricey and, as I've written before, some of them just don't know when to give up.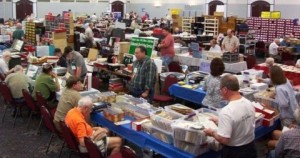 The next way to get stamps is to look for local stamp shows, called bourses, in your area.  The American Philatelic Society maintains an online listing of many, many shows that you ought to look over.  Depending on where you live and your collecting interests, going to shows and meeting dealers can be a great way to get a lot of wonderful stamps at a pretty good price and if you go around to a lot of local shows, you'll end up meeting local collectors and dealers and making a lot of friends.
Third, check out online stamp and collectible auction sites.  They're like eBay but specifically for stamps and other collectibles.  You can also use eBay but you may find better deals on smaller sites.  One of my favorites is Delcampe, which is a foreign site but you can search only for American dealers and find lots of stamps with low shipping costs.  There are many others like Stamporama and BidStart and when you get into the higher-end stamps, there are tons of actual online stamp auctions where stamps can go for tens or hundreds of thousands of dollars.  You can probably ignore those for the moment but it's fun to go look.
Next, you can join the APS, which I mentioned above and not only get a  lot of good information, but they have circuit books that they can send you, very much like an approval service, with stamps that you can buy and send back the rest.  These are available only to paying members, but if you have something you want to sell, you can also get the benefit of selling to other APS members.
Let's not forget joining stamp forums.  It's a great place to communicate and learn from other collectors, but most of them have auctions or sales or giveaways that are open to members.  A couple of good ones are The Stamp Forum and Stamp Community Forum, but searching on Google should find you others.
Finally, and I specifically left this to the end, is to find a local stamp shop.  I put this at the end because there are fewer and fewer stamp shops out there all the time and it's likely that you don't have one in your area.  Most stamp shops are primarily coin shops that happen to have some stamps, just because precious metals collecting makes them a lot more money than stamps.  If you have one, I encourage you to check them out.  If you go travelling, see if there's a shop near where you go.  It can be a fun experience.
Go follow your passions and find the stamps to fill your pages, there are more avenues than ever today and most of them, you never have to leave the comfort of your chair. Enjoy your hobby!